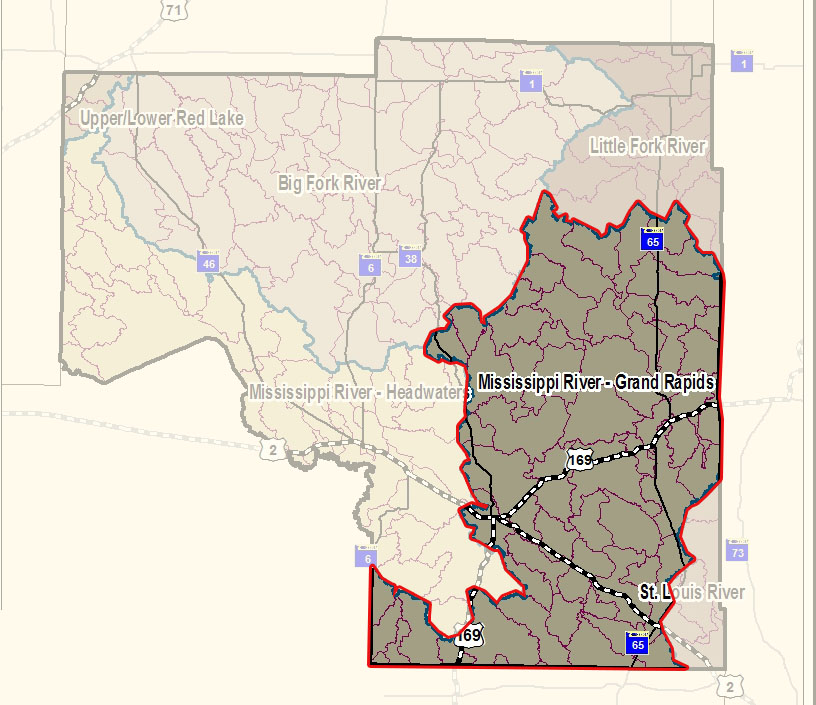 While the main stem of the Mississippi River flows from the U.S. Army Corp dam just west of Grand Rapids and flows south to where the Willow River flows into the Mississippi River SW of Palisade, the Mississippi River - Grand Rapids watershed also include all the area that collects water into smaller creeks and streams that eventually flow into the Mississippi River in this stretch. This begins at the northern most stretch of the watershed boundry that boarders the Laurentian Divide where a drop of water either flows north towards the Hudson Bay or south toward the Gulf of Mexico.
This watershed covers 2,082 square miles and contains almost 2,000 miles of stream/rivers and 625 lakes greater than 10 acres. There are also 79 lakes that produce wild rice 48 lakes are cold water fisheries that help support a healthy trout population. The watershed drainage includes parts of Aitkin, Carlton, Cass, Itasca, and St. Louis Counties. Some of the major cities are Grand Rapids, McGregor, and Remer.
Characteristics
Land use consists of 56% forested, 27% grass and wetland, 7% agricultural, 7% water, and 3% urban. The watershed has 11 nutrient-impaired lakes and 17 impaired stream reaches that don't meet standards for aquatic fish and bugs (2019).
Almost half of this area is public land. The watershed contains numerous heavily developed lakes. The majority of the lakes are important recreational resources and economic benefits to the watershed.
What's Being Done

Surface Water Assessment Grants completed sampling on 147 lakes within Itasca County. The Big Sandy and Lake Minnewawa TMDL project has been completed and approved by EPA. Protection strategies will be an essential element moving ahead into the future to maintain the water resources of the watershed.
A Watershed Restoration and Protection Strategies (WRAPS) report was completed in 2019 with MPCA and all of the counties within the watershed. https://www.pca.state.mn.us/watershed-information/mississippi-river-grand-rapids This report found that the majority of the lakes and streams in the watershed are doing well, though it also found some lakes and streams that have impairments. The results of this WRAPS report will help guide protection and restoration projects in the watershed to maintain and improve water quality.
One Watershed, One Plan
In 2022, the Board of Water and Soil Resources (BWSR) awarded a One Watershed, One Plan (1W1P) planning grant to the Upper Mississippi River - Grand Rapids watershed. This will allow for a collaborative plan to look at the watershed, identify areas that might need water quality protection or improvements, and plan projects to make sure the water in this watershed is healthy for all of the important uses we rely on.
Click here to find updates on the planning process.
Visit our Upper Mississippi River – Grand Rapids Watershed STORY MAP! https://carltonswcd.maps.arcgis.com/apps/Cascade/index.html?appid=7d6c02c66fd145d2bde9f4ae887528de