Itasca County Soil & Water Conservation District (SWCD) recognized three individuals with the 2021 Award for Outstanding Community Conservation; Cavour Johnson, Luke Adam, and Bill Cromell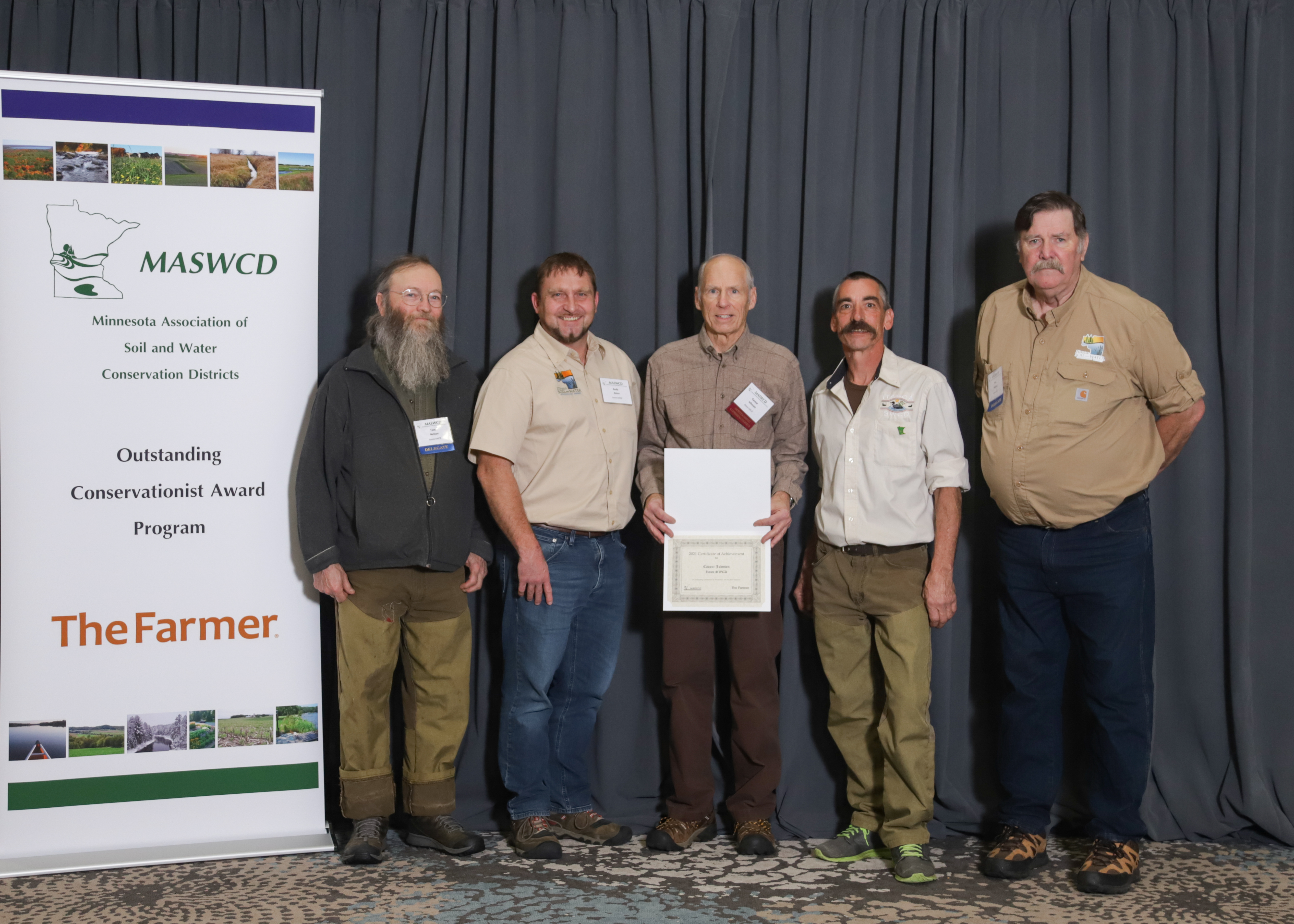 Cavour Johnson
Cavour Johnson (center) receives award from (L to R) Tom Nelson (SWCD Board Member), Andy Arens, SWCD District Manager, Dennis Barsness (SWCD Board Member), and Paul Rustad (SWCD Board Member).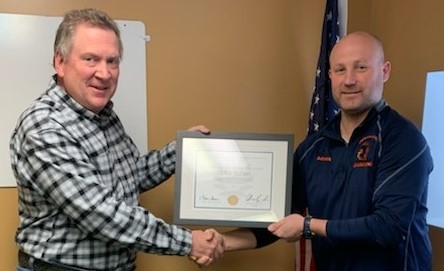 Luke Adam
Bill Gratges (left), Itasca SWCD AIS Program Coordinator, presents award to Luke Adam (right)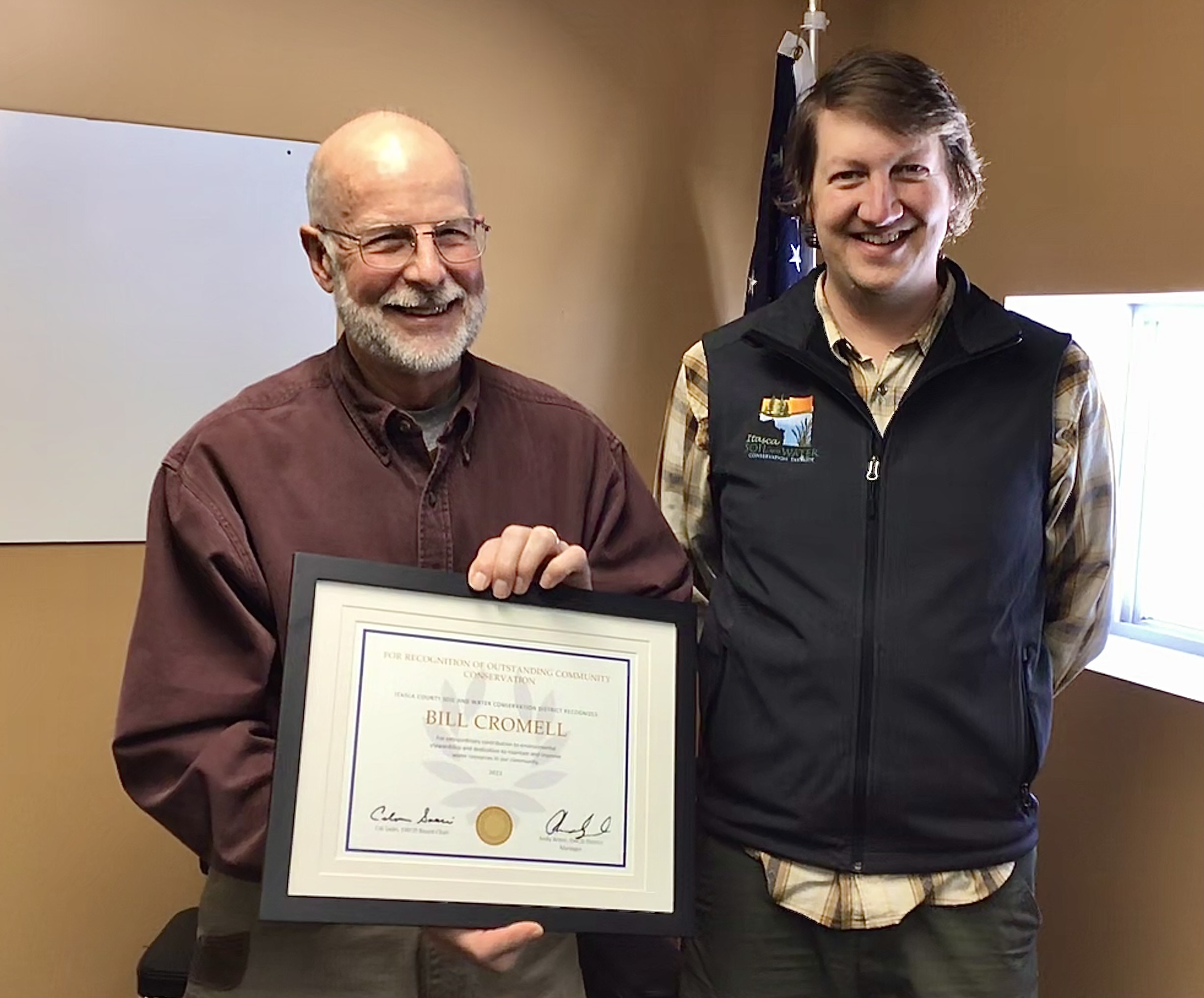 Bill Cromell
Matt Gutzmann (right), Itasca SWCD Water Resource Specialist, presents award to Bill Cromell (left).
The Itasca County Soil & Water Conservation District (SWCD) recognized three individuals with the 2021 Award for Outstanding Community Conservation; Cavour Johnson, Luke Adam, and Bill Cromell.

Cavour Johnson of Coleraine is an active conservation volunteer, mentor, and leader in his community. He is currently a member of the city's parks, trails and landscaping committee, and has led citywide buckthorn removal efforts. In 2016 Cavour was among a group of concerned community members that brought a failing stormwater pond to the attention of the city of Coleraine and Itasca SWCD. Coordination and planning in the following years identified additional storm-water management needs in the city and, ultimately, resulted in a clean water fund grant award of $351,000.00. Cavour has assisted in coordination with city officials and staff, organizing community volunteers, securing and tracking match funding and hours, and project maintenance such as watering raingardens.

Luke Adam, Nashwauk-Keewatin High School was recognized for creating innovative conservation education activities for students and dedication to the preservation of natural resource in our community. Mr. Adam created the Spartan Angling class in the Spring of 2019. The Spartan Angling class investigates a variety of topics such as: fish species, angling tactics, reading contour maps, slot limits, lake over-harvest, shoreline management, invasive species, catch and release tactics, and access to the fishing library that houses rods, reels, tackle, life jackets, fish houses, locators, flashers, and other angler necessities. "Our goal is to equip youth anglers to be stewards of Minnesota's waters by teaching them the art and science of angling. Graduates of this class possess the skills needed to be lifelong anglers who will be successful on the water, yet aware of conservation methods to preserve the future," said Adam. Visit the class's website, www.spartanangling.com for more information.

Bill Cromell, former president of the Deer Lake Watershed Association near Effie, spearheaded coordinating efforts to improve water quality in the Deer Lake watershed by increasing community awareness and by working with Itasca SWCD and the Minnesota Pollution Control Agency to collect lake water samples in the area. Mr. Cromell has also worked to boost community engagement by increasing invasive species awareness, improve lake shoreline health, and improve knowledge and understanding of how activities on land can impact water quality. His tireless work continues to make a positive impact for the watershed.

Itasca SWCD is honored to have community members like these three individuals and would like to thank them for their past and continued environmental conservation, passion, and partnership on SWCD programs.